German Cockroaches
German cockroaches are well-known indoor cockroaches with a distribution that is world-wide. Adults are easily recognized by their light brown or tan coloration with two black horizontal stripes located on the pronotum immediately behind the head, and growing to a length of 13-16 mm. The much smaller young, or nymphs, are darker, almost black in color, also with the black stripes behind the head.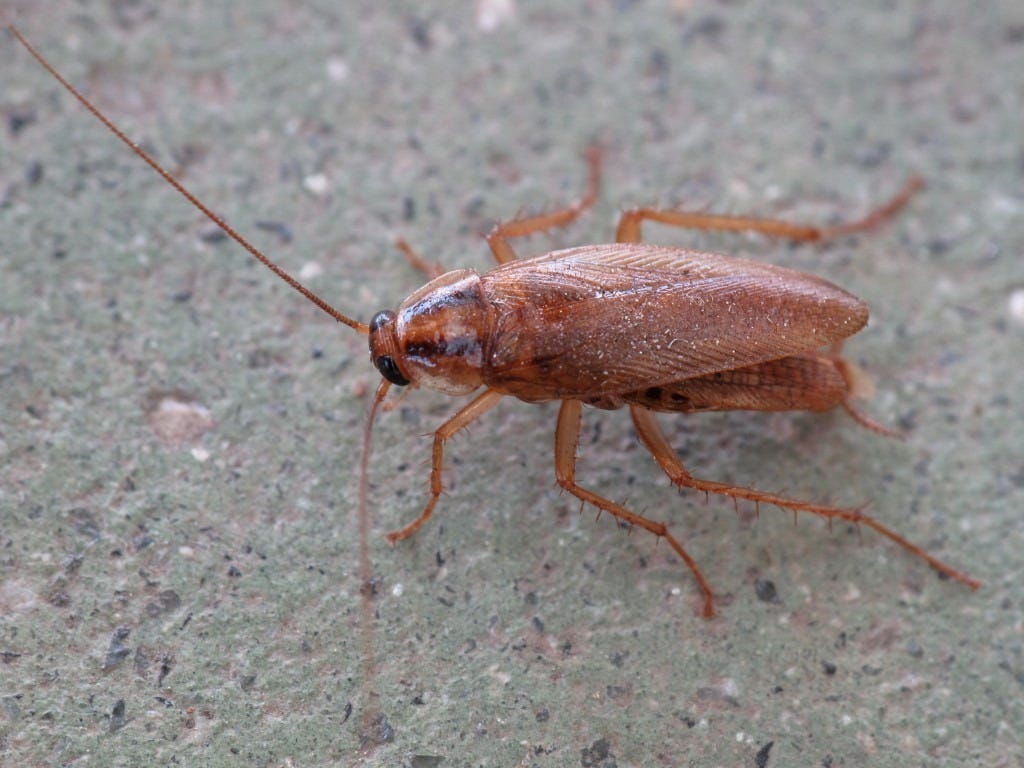 Behavior, Diet & Habits
While adult German cockroaches have wings, they rarely fly, preferring to run. Although capable of living outdoors in tropical environments, German cockroaches are most commonly found indoors, with a preference for the warmer and more humid areas of a structure. In homes, these insects will typically be found in kitchens and bathrooms, but can move to other areas of a home if food and moisture are available.
In most cases, German cockroaches are introduced into a structure or residence when bags, boxes or cardboard containers are brought into the home. They may even be brought in with used appliances. In multi unit apartment buildings, German cockroaches can easily move between units, using the shared plumbing and pipes as a highway.
Reproduction
German cockroaches are known for their ability to reproduce quickly. Female German cockroaches only need to mate once for the production of young. After mating, and under normal conditions, they will produce, on average, 4 to 6 egg cases during the course of their lives, with each egg case, or ootheca, containing approximately 38 to 40 eggs. This egg case is then carried by the female until 1 to 2 days before hatching. Depending upon the conditions, the average time for development, from egg to adult can range from 54 to 215 days, with an average of approximately 100 days. As adults, German cockroaches can survive anywhere from 100 to 200 days.
Signs of a German Cockroach Infestation
German cockroach droppings may appear as small, dark, "pepper-like" material left on countertops or in drawers. Fecal staining may appear as dark spots or smears, some that are slightly raised, in the corners of rooms, along the tops of doors or around small cracks and openings into walls. Since German cockroach females carries their egg case until 1 to 2 days before depositing it, empty egg cases may be found in areas that the females frequent.
German cockroaches are also known to secrete a number of odorous compounds. When populations are present in large numbers, it may be possible to detect a mild, or what some have reported as a "musty" odor.
Control of German Cockroaches German cockroaches produce a large number of nymphs in each ootheca is around 38-to 40 Their small size allows them to hide more efficiently, and they have few natural predators inside human habitats. For these reasons, German cockroach populations tend to grow rapidly and require professional treatment. Contact us today to receive a free estimate!
American Cockroaches
Forty-seven species are included in the genus Periplaneta, none of which are endemic to the U.S.). The American cockroach, Periplaneta americana, was introduced to the United States from Africa as early as 1625 . The American cockroach has spread throughout the world by commerce. It is found mainly in basements, sewers, steam tunnels, and drainage systems. This cockroach is readily found in commercial and large buildings such as restaurants, grocery stores, bakeries, and anywhere food is prepared and stored. The American cockroach is rarely found in houses, however infestations can occur after heavy rain. They can develop to enormous numbers, greater than 5,000 sometimes being found in individual sewer manholes.
Behavior, Diet & Habits
Outdoors, American cockroaches are found in moist shady areas such as hollow trees, wood piles, and mulch. They are occasionally found under roof shingles and in attics. The cockroaches dwell outside, but will wander indoors to search for food and water or to avoid extreme weather conditions. In Florida, areas such as trees, woodpiles, garbage facilities, and accumulations of organic debris around homes provide adequate food, water, and harborages for peridomestic cockroaches such as the American cockroach.
I'm an expert in my field but I wouldn't be where I am without those who've helped me along the way. That's why I love connecting with like-minded people and using my passion and skills to make a difference.
Medical Significance
American cockroaches can become a public health problem due to their association with human waste and disease and their ability to move from sewers into homes and commercial establishments. In the United States during the summer, alleyways and yards may be overrun by these cockroaches. The cockroach is found in caves, mines, privies, latrines, cesspools, sewers, sewage treatment plants, and dumps . Their presence in these habitats is of epidemiological significance. At least 22 species of pathogenic human bacteria, viruses, fungi, and protozoans, as well as five species of helminthic worms, have been isolated from field collected American cockroaches. Cockroaches are also aesthetically displeasing because they can soil items with their excrement and regurgitation.
Other means of management are insecticides that can be applied to basement walls, wood scraps, and other infested locations. Residual sprays can be applied inside and around the perimeter of an infested structure. When insecticides and sprays are used to manage cockroach populations they may ultimately kill off the parasitic wasps. Loose, toxic, pellet baits are extremely effective in controlling America cockroach populations.German cockroaches are also known for their ability to transmit a number of pathogens, including E. coli, Salmonella spp. and Typhus. Recent studies have also indicated that in larger metropolitan areas, the development of asthma in children can be directly linked to the presence of German cockroaches.
Something BUGGING you ?
We can help, get in touch today!